How the Aberdeen region could lead the UK in the conversion to large scale clean hydrogen. 
Alongside project partners National Grid, Pale Blue Dot Energy, ERM and DNV GL, we're aiming to demonstrate the commercial viability of injecting 2% hydrogen into the gas network. The project begins at St Fergus Gas Terminal and will completely encompass Aberdeenshire, but it will also influence locations beyond Scotland via the national network systems.
Media library image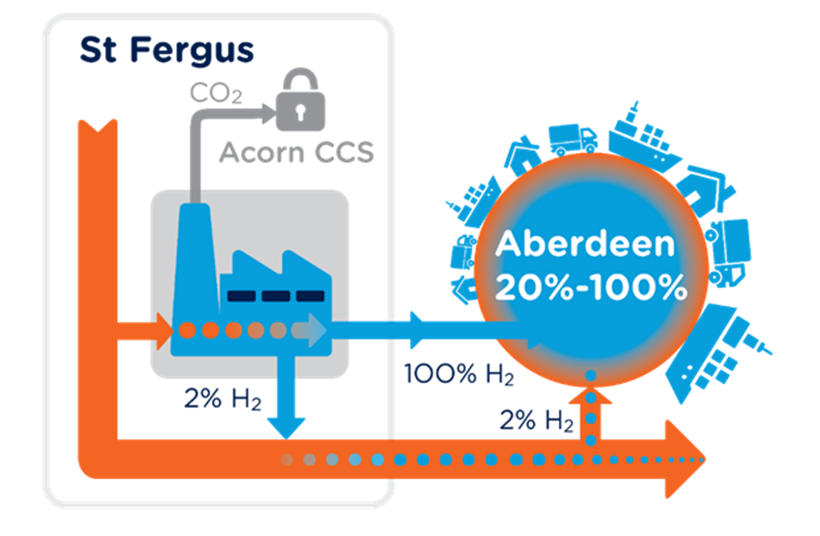 The project also aims to provide a case for constructing a new 100% hydrogen pipeline between St Fergus and Aberdeen that would initially supply the network with a hydrogen blend of up to 20%, increasing to 100% following a complete network conversion to hydrogen.

The new pipeline will support the distribution of hydrogen to Aberdeen, where the use of hydrogen transport is the most advanced and widespread in the UK.
Features
This project aims to address long term issues of reduce carbon emissions and assist the UK in meeting the UK 2015 CO2 reduction target. 
 
It will build upon existing knowledge of H2 generation, CO2 capture and storage, H2 usage in the networks and build knowledge and understanding in the following areas; 
Analysis of hydrogen production at St Fergus using SMR  
Injection of 2% Hydrogen into the NTS 
Identification of technical issues associated with all materials 
Investigate the ACORN Carbon Capture and Storage proposal and its overall viability  
Constructing a H2 pipeline from St Fergus to Aberdeen and commercially viable hydrogen network & transport hub at Aberdeen 
Impact on end-users in terms of perception and cost 
Potential benefits
The findings from this project will provide beneficial information to many other ongoing hydrogen projects such as H21, H100 and Hynet, as well as providing a greater understanding of the impact of introducing hydrogen blends into the NTS and gas distribution networks.