To meet the net zero targets set by the UK and Scottish governments and tackle climate change, it's vital that we cut carbon emissions and build a clean, safe, integrated future gas system.
 
In partnership with the UK's other gas networks, we've helped develop Gas Goes Green: a programme to deliver net zero in the most cost-effective, least disruptive way possible. That means overcoming engineering challenges as well as developing new policies, and listening to businesses and consumers alike so that we can provide everyone with the clean energy they need, when they need it. 
Coordinating activity 
All of the UK's gas networks have been working towards decarbonising the gas that flows through our pipes, but by coordinating our activity and engagement with wider industry, and by developing roadmaps at both local and national level, we can accelerate the transition to a more environmentally friendly system. 
Media library image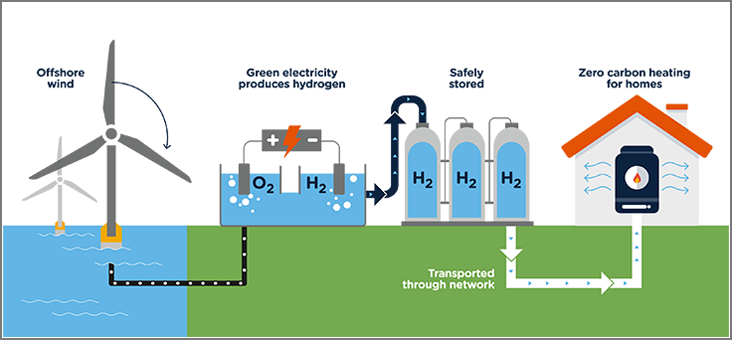 In the short term, we'll work towards a plan for integrating hydrogen into the network, assess storage and the role of clean gas in transport, and show how the steps we've already taken are having a positive impact. Longer term, we'll be working towards carbon capture, utilisation and storage, rolling out our early projects on a wider scale, and eventually integrating low-carbon gases completely. 
The challenge is significant – but by working together, and finding solutions that work for everyone, we can achieve a net zero energy system by 2050.
Our role in Gas Goes Green 
We're leading a trio of pioneering research projects that are helping the UK take strides towards decarbonising the gas network. The Aberdeen Vision project is aiming to gradually increasing the amount of hydrogen in the network in the north-east of Scotland, before fully transitioning to a hydrogen system for the city of Aberdeen. In Levenmouth, H100 Fife will connect thousands of homes and businesses to a network where hydrogen is generated by clean offshore wind power. And the LTS Future project is investigating whether existing oil and gas infrastructure can be repurposed for transporting captured CO2 or liquid hydrogen – speeding up the transition to a clean network. 
The Gas Goes Green launch report, Delivering the Pathway to Net Zero, details the programme's vision, workstreams, and each partner's role in the project. Find out how the industry is coming together to build the UK's future gas network. 
Media library image