In response to the global climate emergency, governments across the world are aiming to lower greenhouse gas emissions to slow the damaging effects of climate change.
The Scottish Government has set a target of net zero emissions by 2045. Already a global leader in renewable energy and low-carbon technology deployment, Scotland's energy landscape is set to undergo more change as it moves toward becoming carbon-neutral. Key to that change will be the transition from natural gas to zero-carbon gases like hydrogen and biomethane.
The project
Scotland's north-east and central belt are home to some of its largest industrial carbon emitters. The sector's reliance on natural gas means that it emits 11.9Mt of CO2 emissions per year, says NECCUS: the equivalent of 2.6 million cars, or roughly all the cars in Scotland. Most homes and businesses across Scotland also use natural gas for heating.
Our North-East Network and Industrial Cluster project is laying the foundations for the rapid decarbonisation of this high-emitting sector.
North-East Network and Industrial Cluster Report
We've published a report outlining the practical steps needed to rapidly decarbonise a significant part of Scotland's homes and industry. It demonstrates how hydrogen can play a leading role in delivering the Scottish Government's target of one million homes with low carbon heat by 2030.
The research, published with global consulting and engineering advisor Wood, sets out a transformational and accelerated pathway to 100% hydrogen for Scotland's gas networks which you can see on the map below. It also details the feasibility of a CO2 collection network to securely capture, transport and store carbon dioxide emissions deep underground.
Media library image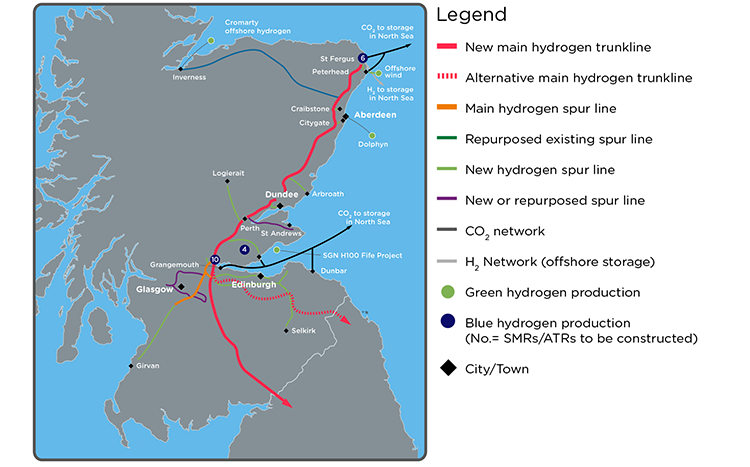 The development of an offshore hydrogen supergrid - linking production and potential storage locations with onshore industrial facilities in the UK, Germany, Netherlands, and Belgium - was also assessed, as was the potential for other cross-sectoral uses for hydrogen such as road freight, rail and maritime transport and, in the long term, aviation.
The industrial sector's transition to hydrogen will be a key decarbonisation driver as Scotland and the UK aim for net zero emissions. By outlining the practical steps that will deliver The Scottish Government's 2045 net zero target, the project will play a significant part in decarbonising heavy industry and help Scotland assert its position as a frontrunner in the hydrogen economy, accelerating the country's transition to a greener future.
Our vision for a net zero Scotland
The North-East Network and Industrial Cluster project is just one of our decarbonisation programmes focused on the north-east of Scotland. In Levenmouth, our H100 Fife project is aiming to build a world-first hydrogen-to-homes network powered by clean offshore wind energy if proposals are approved by energy regulator Ofgem.
Also in Fife, the East Neuk Power-to-Hydrogen project recently concluded that Fife's abundant renewable energy resource and well-developed energy infrastructure could make it a centre for hydrogen production. And our Aberdeen Vision project is aiming to prove the case for construction of a new pipeline from the oil and gas terminal at St Fergus to the city of Aberdeen, supporting the distribution of the zero-carbon gas.