Start date: 30 September 2019
Duration: 42 weeks
Page updated: 16 October 2019
We're investing £1.8 million to upgrade the gas network in the A2 High Street in Newington.
This essential work involves the replacement of old, metal gas mains with new plastic pipe to ensure a continued safe and reliable gas supply.
In close consultation with Kent County Council, our project will start on Monday 30 September and last approximately 42 weeks.
Following our emergency work to repair multiple gas leaks underneath the A2 at Newington earlier this year, we need to replace 4.5km of old gas mains. We'll start our work at its junction with Oak Lane and progress eastwards in 100-to 900-metre sections along the High Street towards the Key Street roundabout. This work will be carried out by our contractor Forefront Utilities on our behalf.
Media library image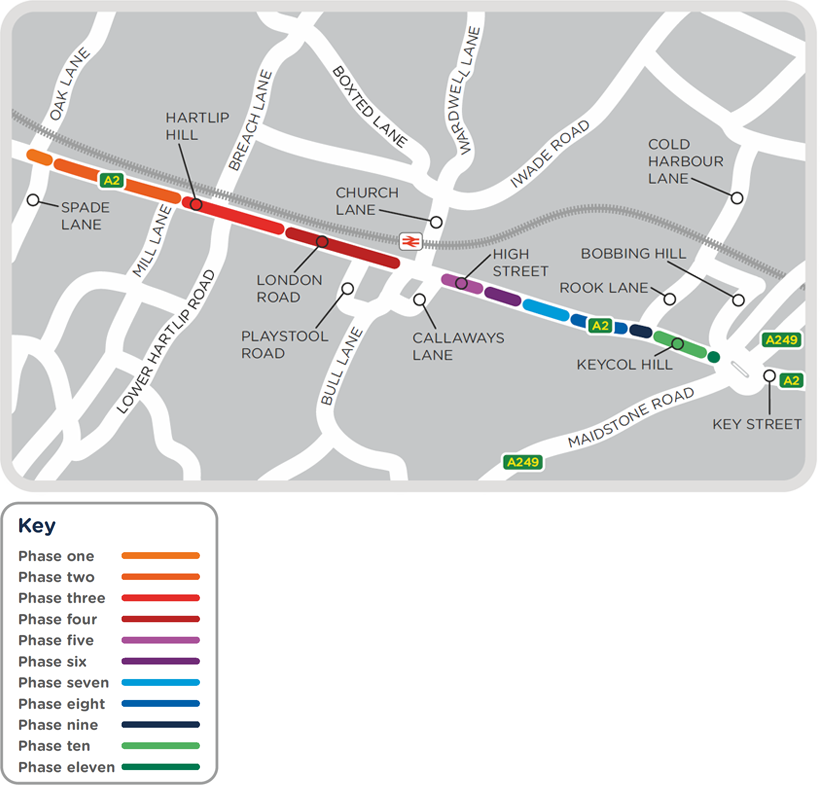 To keep everyone safe, a temporary 30mph speed limit is in place. We'll also need to install temporary traffic lights around our work area which will move with us as we progress along the A2. To keep traffic flowing, we'll manually control our lights Monday to Friday between 7.30am and 7.30pm, and between 8am and 5pm on Saturdays. These lights will still be in operation outside of these times.
Since Monday 30 September, we've temporarily made Oak Lane one way at its junction with London Road for approximately four weeks. Traffic will not be able to exit Oak Lane on to London Road. Canterbury Lane will also be closed and Wallbridge Lane made one way with a signed diversion in place.
We will shortly be carrying out preparations for future insertions for when we move into phase two of our project between Spade Lane to Mill Lane from Monday 21 October. Temporary traffic lights will remain in place around our work area.
Oak Lane and Canterbury Lane will be fully reopened once phase one is completed. Wallbridge Lane will also resume two-way traffic flow.
From approximately 12 noon on Monday 21 October, we'll need to temporarily close Mill Lane for approximately four weeks. Signed diversion routes will be in place for motorists via Spade Lane, Meresborough Lane, Dane Lane, The Street, Hollow Lane and Lower Hartlip Hill.
Following consultation with Kent County Council and Medway Council, advanced warning signs can only be positioned on Kent County Council's geographical area.
We may need to close other side roads during our project. Vehicles heavier than 7.5 tons will not be permitted to use side roads.
Following consultation with Highways England, an alternative route will not be in place for HGVs and no permit scheme will be used.
We'll provide updates on this page as our project progresses.