Media library image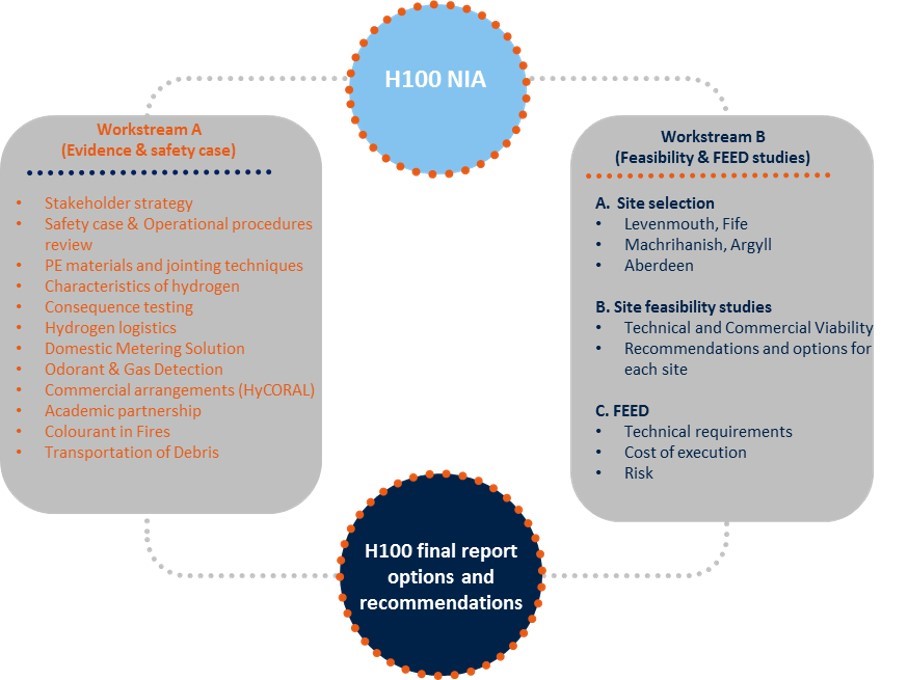 Our H100 project has been designed to demonstrate the safe, secure and reliable distribution of 100% hydrogen in our gas network.
The introduction of hydrogen into the energy mix is a potential solution to reduce carbon emissions and could form an important part of the UK's low carbon future. Our H100 project will develop site specific evidence to support the construction of a physical 100% hydrogen demonstration.  The Network Innovation Allowance (NIA) project is built-up of a series of smaller projects that specialise in each aspect of hydrogen research under the following workstreams:
Workstream A covers the evidence and safety elements for the research into hydrogen distribution required to ensure we fully understand the impact of its use. This will enable the development of the safety case and compliance framework needed to prove the safe and reliable operation of our demonstration hydrogen network. These project elements will examine the whole hydrogen supply chain, including storage, distribution and its end use and assess the technical and commercial viability of the world's first fully operational hydrogen network.
Workstream B are the Feasibility and Front-End Engineering Design (FEED) studies to identify, resolve and evidence known local network features and issues in preparation for construction and operation of a hydrogen network. These studies will look to fill the knowledge gap by investigating the regulatory, technical and physical issues associated with the transportation of Hydrogen focusing on legislation, production (wind, solar and reforming), storage, transportation, distribution, and utilisation.  Culminating in the construction and physical injection of hydrogen into the first UK 100% hydrogen network.