Gas holders have had a visible presence across the British landscape since Victorian times, storing volumes of gas to satisfy the ever increasing demand for gas in towns across the UK.   
The first gas holder was invented in 1824 and built in Leeds. Gas holders continued to be built across Great Britain throughout the nineteenth century and by the early twentieth century they became a feature in nearly every town.  
Media library image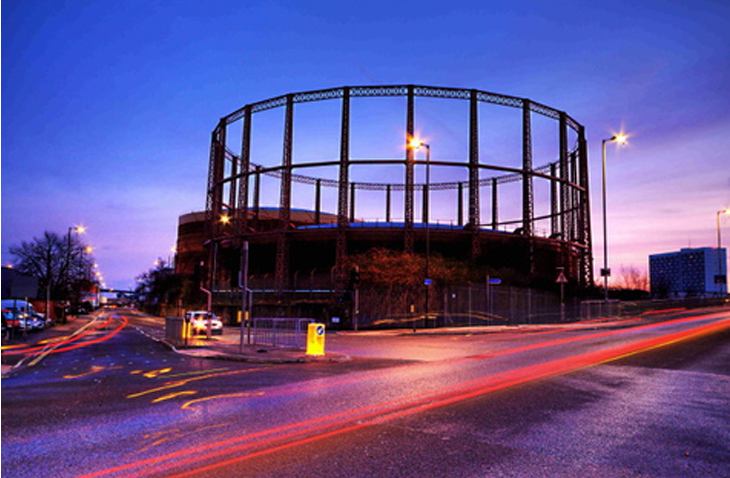 With the discovery of natural gas in the North Sea in the 1960s, the need for local gas in towns across the country went into decline and so did the usefulness of gas holders. Following years of investment, upgrading gas networks and technology infrastructure, gas is now more efficiently stored in underground pipework and gas holders are no longer needed. 
SGN owns a total of 110 gas holders located across Scotland and southern England and are currently investing in a programme of dismantling and land regeneration.
Capturing history with the community
As a visual reminder of our industrial past, gas holders are an important part of local community history. We have a duty to make sure their story isn't lost, and it's important we celebrate their existence for future generations to appreciate.
To make sure this happens, we collaborate with local interest societies and community groups to find ways of capturing and sharing their unique story. We work closely with Historic England and Historic Environment Scotland to review, record and manage the gas holders' heritage. We've taken time-lapse videos when the iconic gas holders have been dismantled and share these with local museums and community groups.
Our Gas Holders in Scotland
Alloa  
Ayr
Coatbridge
Dumbarton  
Dundee  
Dundee Mills
Dunfermline
Galashiels
Glasgow Provan
Helensburgh
Inverness
Johnstone
Kilmarnock 
Leven
Paisley
Preston Links
Provan
Stranraer
Wishaw
Our Gas Holders in southern England
Ashford
Aylesbury
Belvedere
Brighton
Bromley
Camberley
Canterbury
Christchurch
Crawley
Crayford
Cowley
Croydon 5
Dartford
Deal
Didcot
Dorking
Dover
Eastbourne
Epsom
Farnborough
Gillingham
Gosport
Gravesend
Greenwich
Havant
Herne Bay
Horley
Isle of Grain
Isle of Sheppey
Kennington
Littlehampton
Mitcham
Newbury
Old Kent Road
Poole
Reading
Reading 6
Redhill
Rotherhithe
Sevenoaks
Southampton, Britannia Road
Southampton, Millbrook
St Mary Cray
Sydenham
Tonbridge
Tunbridge Wells
Wandsworth
Weymouth
Whyteleafe
Worcester Park
Worthing
Emsworth Gas Holder
Built: 1934
Dismantled: 2016
The one-acre site off Palmers Road in Emsworth, Hampshire, has had gas holders ever since 1853 when the Emsworth Gas and Coke Company was formed to provide gas to the people in the town. Emsworth's current gas holder was manufactured by Messrs Robert Dempster at their factory in Yorkshire with each plate numbered to show its construction position. The plates were transported by rail to Emsworth station and taken to site to be erected. It was built on a huge concrete base and was used to store supplies that came from Portsmouth by train and sea, with heavy horses used to transport supplies to the gas works.
Will you miss me?
We worked with local community group WemsFest to stage an event called 'Will you miss me?' for residents to celebrate the holder's history and to say farewell. 
Images of its history and a time-lapse film of a holder being dismantled were projected onto the iconic metal structure over two nights. We also funded and hosted a month-long exhibition at Emsworth Museum, and with the gas holder now gone, we passed our archive on to a local historian who hosts pop-up exhibitions for residents and community groups.
Salisbury Gas Holder
Built: 1928
Dismantled: 2018
Our Salisbury gas holder is considered a local landmark with a history pre-dating the Second World War.
SGN wrote to 500 residents in Salisbury who were directly impacted by our decommissioning work. The letter included an invitation to a drop-in session, and we had over 100 attendees including the Mayor and local councillors. It was an excellent opportunity for us to hear the views of local people.
We've helped Fisherton History Society to capture local stories about gas works, and we're also contributing material to a new exhibition within Salisbury Museum that will include the original gas holder plaque, a time-lapse video of the gas holder being dismantled, and an exhibition board.
Secret Spitfires of Salisbury
Hilda, 94, the Second World War Gas Manager's daughter, shared the story of when the Salisbury gas holder was bombed by German troops and her father climbed up it to put out a fire and save the day. We took Hilda to revisit her boarded-up former home and she shared some great memories with the community. The film is also dedicated to recognising Salisbury's involvement during World War II.