Date:
06 Sep 2021
Media library image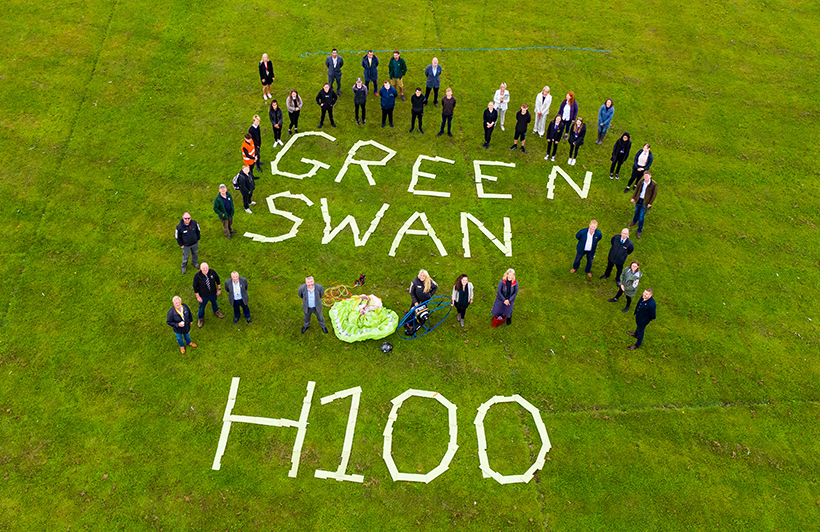 Sacha Dench, The Human Swan, flew in to Levenmouth today as part of a world record breaking journey to raise awareness about the effects of climate change. She stopped by on her electric paramotor to talk to local climate change heroes, including our brilliant H100 Fife team, on her way to COP26.
Sacha has been flying an electric paramotor – a bit like an electric fan with a large sheet above her – all the way around Britain as part of the Round Britain Climate Challenge and an attempt at a Guinness World Record. She started this amazing expedition just outside Glasgow in June and has now travelled all around England and Wales, arriving in Levenmouth earlier today before continuing her journey to the hugely important COP26 United Nations Climate Change Conference in Glasgow in November.
She's been stopping frequently throughout her journey and we were thrilled when she stopped to raise awareness of how the Levenmouth community is tackling the climate crisis, including our very own H100 Fife project. We're really pleased to be supported by Sacha, who's raising awareness of the positive strides being made by local communities in what is a critical time in the lead up to COP26.
Media library image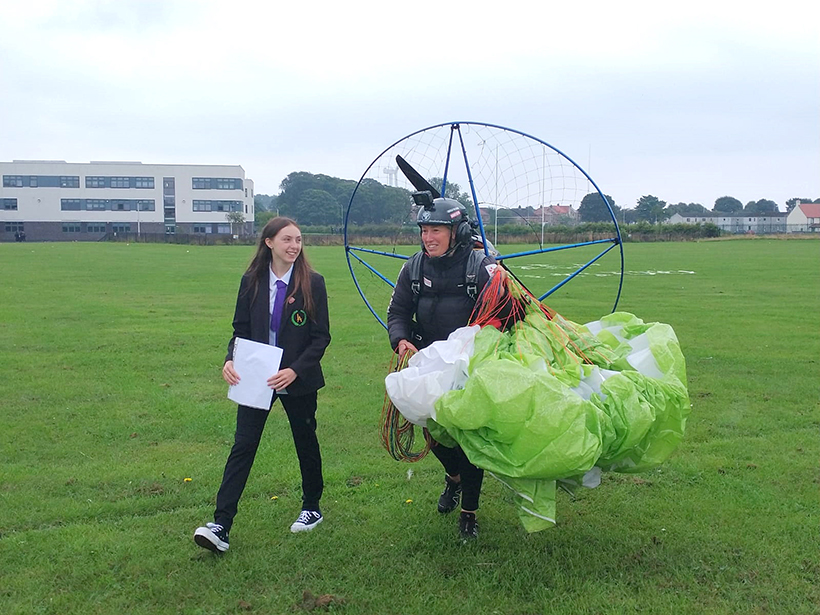 After landing expertly in the Levenmouth Academy playing fields this morning, Sacha said: "I am delighted to be meeting people in Levenmouth who are truly focused on answers to the climate crisis – not problems – and as such are inspirations to all.
"We're trying to answer the question 'We drove the Industrial Revolution, can we drive the Green Revolution too?'. As part of this expedition, we have been investigating how climate change is affecting different regions of the country and showing – in a visually stunning and exciting way – what is happing to help cut carbon and preserve and restore our environment."
Following Sacha's landing, our Director of Energy Futures Angus McIntosh spoke about H100 Fife – our world's first hydrogen network to heat homes which will put Levenmouth at the forefront of the clean energy revolution. Renewable hydrogen will be introduced into homes in Buckhaven in 2023, providing zero-carbon fuel for heating and cooking.
Speaking to Sacha and the Levenmouth Academy students, Director of Energy Futures Angus McIntosh said: "We're delighted that Sacha and Conservation Without Borders are supporting our H100 Fife project and understand its importance in decarbonising energy.
"We're also proud to be a part of the local Methil and Buckhaven communities who are already doing great things for our environment. The only way we can reach net zero is to do it together and we look forward to working with them on this world-leading project."
During the event, Duncan Zuill, Religious and Moral Education teacher and EIS Representative at Levenmouth Academy, talked about the school's campus wilding project and how all school campuses can include wild spaces for biodiversity and make a space for nature. Duncan said: "I'm always looking at ways of making the school more sustainable. H100 Fife is a really exciting sustainability project that's really captured the imagination of students and teachers alike and I'm really looking forward to it kicking off."
Pauline Silverman from The Scottish Environment Protection Agency's (SEPA) also spoke about the River Leven programme – established to reverse the decline of the economy, communities, and natural environment in a disadvantaged area.
Both Levenmouth Academy and SEPA's River Leven programme make up two thirds of the Fife hub of Climate Beacons for COP26, a Scotland-wide collaborative project between climate change or environmental organisations and arts, heritage or cultural organisations to stimulate long-term public engagement in the lead up to and following COP26.
We're excited to be embarking on H100 Fife in Levenmouth and continuing to build local relationships so we can work with the community every step of the way.