Date:
28 May 2020
Media library image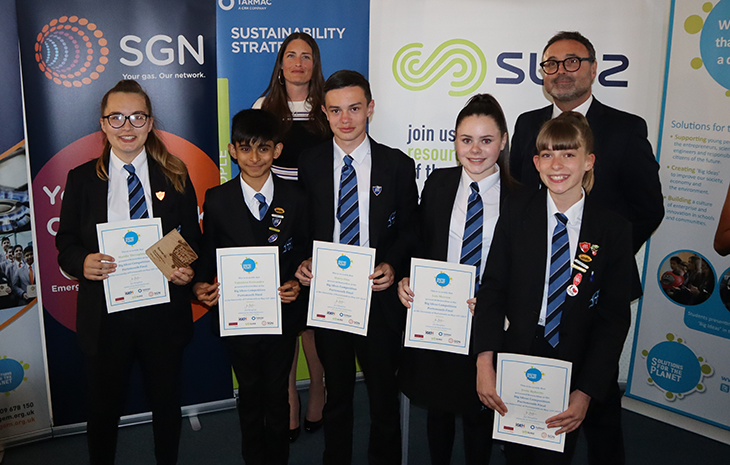 Mentors from across our company are supporting student teams to solve some of the planet's biggest issues through a new online platform while measures to restrict the spread of coronavirus are in place.
The Solutions for the Planet Big Ideas Competition sees teams of secondary school pupils working with local businesses to generate solutions to key environmental, economic and social issues faced in the community and beyond.
School closures and government advice due to coronavirus have impacted how teams can develop their ideas as the competition progresses. However, a recently launched platform on Solutions for the Planet website allows teams to complete programme challenges online and offers students the chance to collaborate with programme coordinators and business partner mentors virtually.
Our colleagues taking part in the virtual mentoring programme had been working with teams prior to the interruption of the pandemic. Mentors attended schools on their Big Ideas Days where students are introduced to sustainability issues, come up with solutions to those issues, and could explore careers in science, technology, engineering and maths.
The teams are currently preparing business plans and presentations for their Big Ideas for the competition's regional finals which are scheduled to take place virtually in July.
Our Stakeholder and Community Manager, and virtual mentor working with Cams Hill School in Portsmouth, Nicole McNab said: "It's brilliant that we can continue to work virtually with all these talented, young entrepreneurs who are developing some fantastic solutions to help our planet.
"Working virtually is different and something that we're all getting used to. In person, I could speak to students directly and it's easier to respond face-to-face, but Solutions for the Planet have created a brilliant space for users to interact and discuss the competition challenges.
"It's great that the competition and collaboration can continue through the online platform as teams have already invested significant time and effort into developing some really creative ideas. Despite the pandemic, it's important that we adapt and replace traditional methods to ensure people can flourish and creativity can be unlocked so potential future crises can be solved."