Date:
06 Sep 2019
Media library image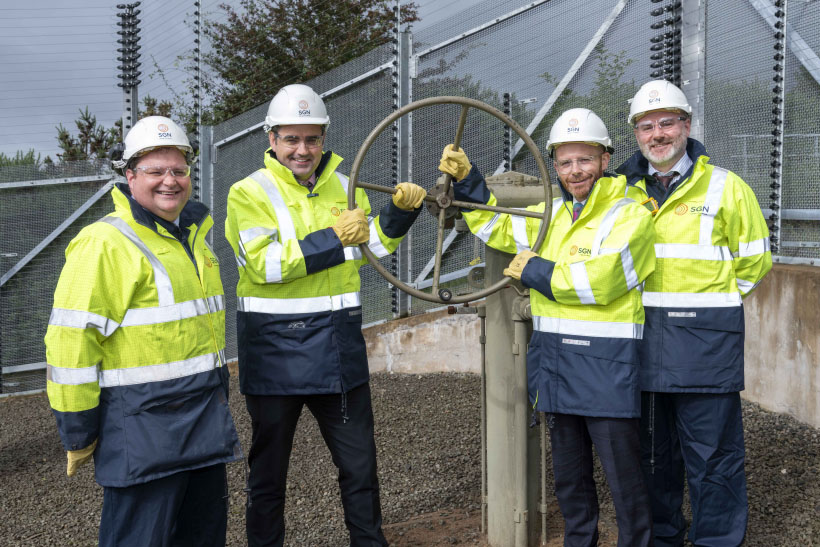 A challenging project proved not to be a bridge too far for the engineering experts at gas network company, SGN, with the construction of an almost 2km long pipeline under the River Clyde.
MP for West Dunbartonshire Martin Docherty-Hughes and MP for Paisley and Renfrewshire North Gavin Newlands helped turn on the gas as the new pipeline was commissioned at a ceremony today.
Martin Docherty-Hughes MP said: "The Erskine Bridge is an iconic landmark, connecting the communities of West Dunbartonshire and Renfrewshire across the Clyde for almost 50 years.
"It's an honour to officially open this new pipeline along with my colleague Gavin Newlands MP, which will ensure a safe and reliable supply of natural gas to thousands of local homes and businesses.
"An infrastructure project of this complexity takes considerable skill and expertise, and I commend all of the engineers and workers involved for its successful completion."
Gavin Newlands MP added: "As the son of a former gas board fitter I was very proud to open the new gas pipeline beneath the River Clyde with my good friend and neighbouring MP for West Dunbartonshire Martin Docherty-Hughes. The project has been a real feat of engineering and I was deeply impressed at the skill involved by all concerned in the delivery of the project.
"The Erskine Bridge is approaching its 50th birthday and is not only a hugely important transport link on the west coast but a hugely recognisable landmark in its own right, however not many people knew their gas supply was delivered by the pipes under the bridge also. Replacing these half-century old pipes will ensure a reliable supply of gas for residents on both sides of the Clyde for decades to come."
The new pipeline replaces two 1.5km pipelines previously suspended under the Erskine Bridge. Maintaining the existing pipelines had become both costly and time consuming for both SGN and the Scottish Government therefore the decision was taken to remove the pipes from the Bridge and design a replacement pipeline. 
A major planning and design exercise got underway to address the many challenges of the project including:

•    The 2,000-year-old Roman Antonine Wall (a World Heritage Site)
•    The A82 dual carriageway into Glasgow
•    A dual-track electrified railway crossing at Kilpatrick Station
•    The Forth and Clyde Canal at Lock 37 above a culvert for Dulnottar Burn 
•    A disused railway
•    A nature reserve (The Saltings)
•    A community woodland (Boden Boo)
•    A luxury golf hotel (Mar Hall)
•    St Patrick's RC Church, which holds daily mass services
•    The Old Secession Church, now converted to a listed building of residential properties 
•    And of course, the Erskine Bridge itself eceived during our project.
Following the appointment of main contractor J Murphy & Sons Ltd, construction work got underway in March 2018 and, as part of the overall project, there were four main worksites at Lusset Park, St Patrick's RC Church, Old Kilpatrick, Boden Boo community woodland and Erskine Hospital. Horizontal Directional Drilling was used as the new pipeline stretched from St Patrick's RC Church in Old Kilpatrick to Mar Hall Golf Club. 
Project Manager David Rae said: "We're delighted to commission this new pipeline following the many challenges we've overcome during this hugely complex project. In total, over 260 sections of 450mm diameter steel pipes, manufactured in the UK and each weighing 2.2 tonnes, have been commissioned. By using the latest in technology, our expert engineers successfully drilled under the entirety of the River Clyde in challenging ground conditions.
"Our micro-tunnelling operation under Old Kilpatrick Railway Station was also quite a feat of engineering. We needed to approach this in one continuous section, tunnelling for 24-hours a day!" 
The success of this project is also due to our continual and regular engagement with local communities. From holding public events, to working with the Erskine Hospital for veterans and local schools. We also created a temporary car park following feedback from local hillwalkers, on route to the Kilpatrick Braes.
 
Another key priority during the project was to minimise the impact on the environment and on historic landmarks. We engaged with Historic Environment Scotland to ensure that the Antonine Wall was protected while we carefully laid a section of new gas main alongside it.

And, while working in Boden Boo Community Woodland, we worked with Forestry and Land Scotland throughout to minimise the number of trees felled and to ensure that replacement trees will be replanted using native species. A bench, carved from one of the felled trees by Erskine Proud to Care, was also donated to the veterans at the Erskine Reid Macewen Activity Centre in thanks for the support we received during our project.