Date:
15 Jul 2020
Media library image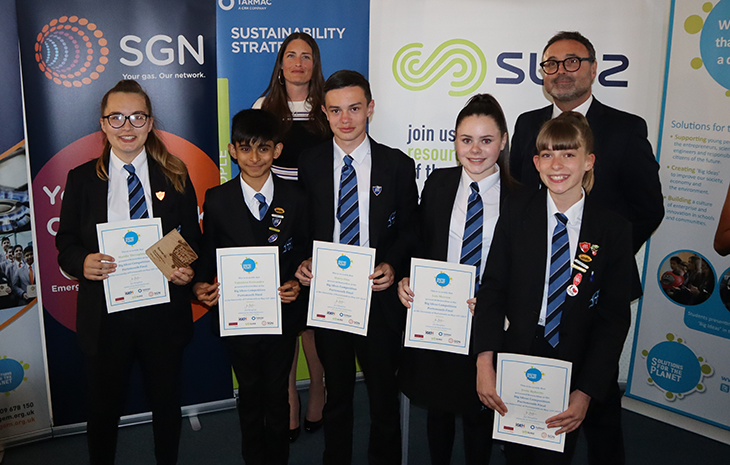 Students from four secondary schools in central Scotland and the south east of England, working with mentors from across our business, have reached the final of a national competition to find solutions to key sustainability issues.
The Solutions for the Planet (S4TP) Big Ideas Competition gives pupils the opportunity to work with businesses to create ideas that could solve societal and environmental problems facing the world while exploring opportunities within science, technology, engineering and mathematics.
Mentors from SGN, and the programme's other corporate partners, have supported student teams in school and remotely as a result of the coronavirus pandemic to develop their ideas, progress their business plans and help hone their presentation skills to amaze the judging panels at each stage of the competition.
Twelve teams have made it to the National Final of the competition after a series of regional finals were held virtually earlier this month. S4TP Programme Coordinators were joined by business partner employees and guest judges on the regional final judging panels, including some of our colleagues who had the tough task of deciding which teams to send through.
Our Energy Futures Manager Colin Thomson, who judged in the Central Belt Scotland and North England Regional Final, said: "All of the ideas were fantastic and made our job as judges very difficult when it came to decide on a clear winner. The teams gave some impressive presentations, provided excellent research and handled our questions in a confident manner demonstrating their knowledge and research.
"From an organisational perspective, it's great to build up relationships to encourage young people to take an interest in engineering, technology and the impacts on the environment."
The teams will continue to develop their ideas between now and the National Final currently scheduled for Wednesday 18 November at the Palace of Westminster in London. Business mentor Nicole McNab, who has been working with the Mini-Bines team from Cams Hill School since January, said: "I'm delighted that the team's efforts and ideas have been recognised by the judges. They've worked tirelessly to hone their idea of schools incorporating miniature wind turbines to generate energy for the buildings. Their knowledge and experience of presenting the first time will benefit them when they come to present in the National Final."
The S4TP team were so impressed with the more than 600 pieces of work submitted by over 150 students despite the challenges of lockdown, that they are also creating a special virtual event to celebrate all the teams involved in this year's competition. This will be streamed live on Thursday 6 August from 5.30pm.