Date:
21 Jul 2021
Media library image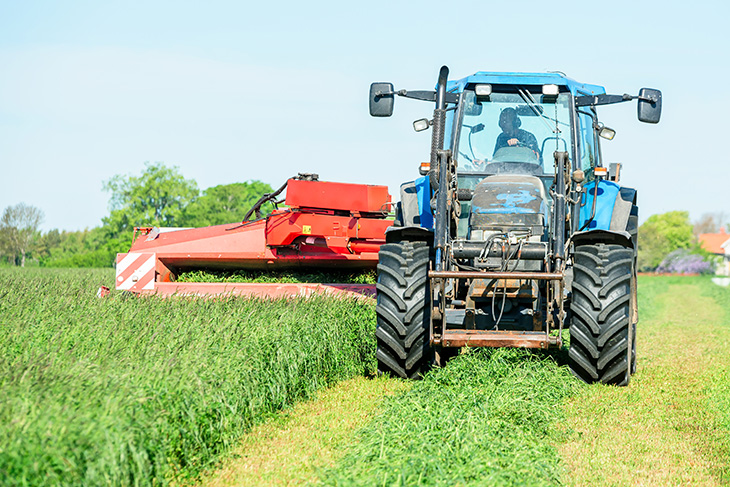 It's Farm Safety Week 2021 and we're partnering with the young farmers associations in England and Scotland to highlight the importance of working safely near our gas pipelines.
We're here to help farmers and landowners safely plan their work and we also provide free eLearning to keep you safe.
We own and operate 74,000km of gas mains, including high pressure (HP) pipelines, which are a critical part of our national infrastructure. As these pipelines run underground across the length and breadth of the country, it's inevitable that work will need to be carried out near them.
The most common cause of incidents involving our gas network is damage by others. There's a risk of damage whenever land, such as farming land, is disturbed. This includes excavation, ditching, drainage work, fence installation or anything else within the proximity of our pipelines.
Not only is damaging a pipeline illegal, but it can result injury or even death. Agriculture has the worst rate of worker fatal injuries of all the UK's main industrial sectors. So, it's more important than ever to get our safety messages to farmers and landowners who are 18 times more likely to be killed while at work than the average person.
Get in touch with us before starting work near gas pipelines
SGN Maintenance Manager Kevin Feeney says: "Please, always get in touch with us on 0800 912 1722 before starting any work near our high-pressure gas pipelines to avoid injury, or even death, to yourself and others.
"We'll visit you free of charge to help you plan your work, confirm and mark the location of any pipelines, and advise what work is permitted."
Free eLearning
Kevin continues: "We have a short 10-15-minute eLearning course, complete with videos and quizzes, available for anyone who needs our help to work safely near gas pipelines. It describes how and when to contact us for our support and will keep you safe while reducing the risk of damage to our gas network."
"This training has been shaped and developed using input from our partners LinesearchbeforeUdig (LSBUD), the Scottish Agriculture Colleges, Falkirk Council and East Lothian Council."
Click on the button below to complete the course.
Our continued partnerships with the National Federation of Young Farmers Clubs (NFYFC) and the Scottish Association of Young Farmers Clubs (SAYFC) help us reach out to farmers and landowners with our safety messages.
This year, we're proud to sponsor the Safety Awards for both the YFC Achiever Awards and the SAYFC Farm Safety Awards. Young farmers can nominate groups of people or individuals who are helping to drive real change in farm safety. Nominations for the YFC achiever awards are now closed, but the winners will be announced in September.
SAYFC National Agri & Rural Affairs Chairman Alistair Brunton said: "In being nominated for SAYFC's 'Farm Safety' Award – kindly supported by SGN – we hope this builds the confidence of the nominated individuals to always thereafter, illustrate the importance in health and safety to friends, family and neighbours.
"As these young farmers, crofters, landowners and agricultural employees move forward in their careers, it is hoped that their insightfulness will ensure appropriate training and knowledge is gained for the types of tasks that have previously claimed lives of those their age.
"Any job in the sector is a dangerous one. However, these jobs can always be examined to plan the safest approach to limit the elements of risk. For example, checking that correct PPE and equipment are worn and available."
Know what's below before you dig
If you're a farmer or landowner planning to carry out work which disrupts your land including excavating, ditching and drainage works, call us on 0800 912 1722. We'll visit your site free of charge to help you plan your work and mark the location of any pipelines.

To find out where our gas pipes are located, visit linesearchbeforeudig.co.uk.