Date:
30 Jul 2020
We've now donated £165,250 to support local charities and good causes in their response efforts to communities impacted by coronavirus.
The donations have helped county funding programmes to issue grants to hundreds of groups, businesses and individuals across Scotland and the south of England to support those most in need during these unprecedented times.
Funding has been awarded to setup foodbanks for vulnerable people, support individuals experiencing chronic loneliness through social isolation, provide payment holiday loans and much more:
Our donation contributed to The London Community Foundation committing over £4 million so far to grassroots organisations and supporting over 330,000 Londoners during the pandemic. A fifth of that funding has gone to charities addressing domestic abuse like Sistah Space as well as significantly contributing to BAME-led organisations after BBC analysis suggested people from BAME backgrounds are disproportionately affected by coronavirus.
The Vital for Berkshire Coronavirus Appeal has issued funding to help projects across the county during the pandemic. Our donation has helped boost their fund to advance people's physical and mental health, promote access to local services and reduce isolation, and improve individuals' life skills and employability.
In Buckinghamshire, the money we've donated has helped groups like Youth Concern which supports vulnerable and disadvantaged young people aged 13 to 25 in the Aylesbury Vale area. Coronavirus had caused the independent charity's drop-in centre to temporarily close, but the donation has enabled Youth Concern to support those who felt uncertain or scared in new ways. A triage phone service was introduced to continue offering support and advice to young people experiencing problems with addiction, sexual and mental health.
The Heart of Bucks Community Fund also issued grants to support small business owners following coronavirus' impact on the UK economy, as well as helping to keep a local community radio station operational for a few more months.
Donations to the Hampshire and Isle of Wight Community Fund (HIWCF) has enabled local groups to scale up their resources to help people in their communities stay safe and ease the burden on the NHS during the pandemic. One awarded grant enabled volunteers at Waypoint Church in Fareham continue to deliver weekly food parcels and boredom bags to vulnerable households to reduce the anxiety of catching the virus and boost mental wellbeing.
The Sussex Crisis Fund used our donation to support Time to Talk's work in Brighton. The grant ensured volunteers could prepare more meals at Exeter Street Hall for vulnerable older people during the lockdown restrictions – many of whom were experiencing loneliness through social isolation.
Media library image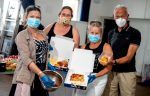 Grant Cornwell MBE, Chief Executive at HIWCF, said: "It's at times like these that we are reminded that community really matters, and being able to respond to local needs is a key value for the Foundation. I would like to thank the team at SGN for working with HIWCF, as this support for our We're All Together Fund has enabled us to prioritise the needs of vulnerable and disadvantaged people in local communities, making a big difference to their lives."