Date:
01 Jun 2022
Media library image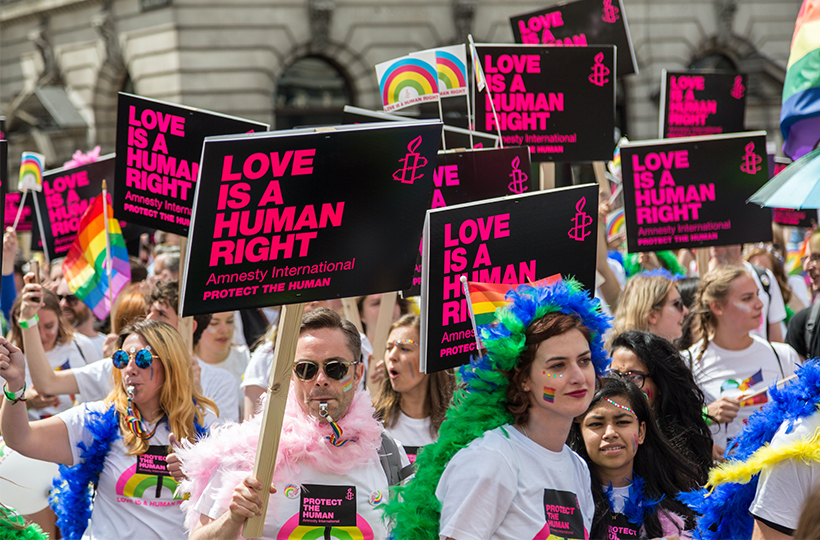 Today marks the start of Pride month in the UK. To celebrate, D&I Partner Bradley Barlow explains why Pride continues to be important to the LGBTQ+ community and their allies.
Imagine walking down the street holding hands with the person you love.
For most people, this is something they may do most days without giving it a second thought.
But this isn't always the case, especially for people in the LGBTQ+ community.
Being a gay man was a crime in the UK until 1967 and it wasn't until 2008 that it became illegal to encourage homophobic hatred.
Same sex marriage became legal in England and Wales in 2013, and then in Scotland a year later. While this is obviously great progress, take another look at those dates.
It was only ten years ago that it would have been illegal for a gay person to marry the person they loved. And it was only two years ago, in 2020, that it became legal in Northern Ireland.
Although laws may have rightly changed, unfortunately, some peoples' attitudes have not and there's still a lot of work to be done.
June is Pride month, dedicated to celebrating LGBTQ+ communities, and aims to promote acceptance, equality, and raise awareness of issues affecting the LGBTQ+ community.
But what are those issues and why is it important to celebrate Pride month? Here's everything you need to know:
Why is Pride held in June?
On 28 June 1969, police raided the Stonewall Inn, a bar in the gay area of New York, for the second time in a week. They threw out 200 people and beat some of them.
The gay community were angry about the way they were being treated by the police, so chose to fight back. A week of protests and riots were held by people from the gay community who were fed up of being harassed by the authorities. News of the riots spread around the world, and this inspired others to join protests and rights groups to fight for equality.
What did the Stonewall protests achieve?
The first Pride festival officially took place in the UK in 1972 and the charity Stonewall was founded in 1989, named after the bar.
The charity works to fight inequality and homophobia, and campaigned to overturn the Section 28 law, which prevented teachers from talking about gay relationships at school in the UK. Most recently, they have been working to support rights for transgender people, something they have received criticism for.
In the last year, a number of organisations have departed Stonewall's Diversity Champions programme, designed to ensure LGBTQ+ people are comfortable in the workplace. The BBC claims to have left to "minimise the risk of perceived bias", with Stonewall responding that the exit was a result of "organised attacks on workplace inclusion that extend far beyond" the Diversity Champions scheme.
Why are Pride events still needed if laws have been changed?
In the last month alone:
A Tottenham Hotspur fan was fined £300 for two homophobic chants against Chelsea fans at a match in January. The CPS said: "These homophobic slurs are not harmless banter – they are unacceptable in this day and age and have a significant impact on LGBTQ+ communities."
Cases of monkeypox linked to people from the LGBTQ+ community prompted the UN to step in and warn that some reporting on the virus has used stigmatising language that could harm public health. (To clarify, the UN has said transmission is due to close physical contact with a monkeypox sufferer of any sexuality and could affect anyone)
A 55 year old man was subjected to homophobic abuse before being struck over the head while walking through Burgess Park in Southwark – police are still looking for the assailant.
But more widely than this, there are countries around the world where it is illegal to be anything other than heterosexual. Depending on the country, your punishment could be a fine, imprisonment or torture.
In Iran, you could be sentenced to death.
Even in the supposed land of the free, a Florida law was passed in March this year banning the classroom instruction on sexual orientation or gender identity – also known as the 'Don't Say Gay' bill. Part of this bill would mean if a child confided in a teacher about their sexuality then the teacher would be required to report this.
Pride events are about human rights, empowering LGBTQ+ individuals to reclaim the rights and freedoms they are denied, and the public space they often feel excluded from.
Visibility is crucial to fighting shame and social stigma, marching in the face of threats and violence. Pride events inspire celebrations of difference and show that LGBTQ+ communities will not to be intimidated and will continue to demand equality.
Until everyone can walk hand in hand with the people they love without being attacked, Pride will continue to be as important as the first protests were in 1967.