Start date: Monday 17 June 2019
Approximate duration: 34 weeks
Update: Tuesday 10 September 2019
We have now completed our work in Cochrane Street, up to its junction with Queen Street. This week, we're continuing to move westward in St Vincent Street/St Vincent Place and, all going well, hope to replace the gas main between St Vincent Street's junctions with Queen Street and Renfield Street by the end of next week.
Our work in Queen Street has been moved until after the New Year, following close consultation with Glasgow City Council. In the mean time, we'll continue working westward in St Vincent Street, southward along Hope Street and westward along Bothwell Street.
Please also note that our work in Pitt Street and Waterloo Street will likely start after the New Year following a scheduled break during the festive period.
Media library image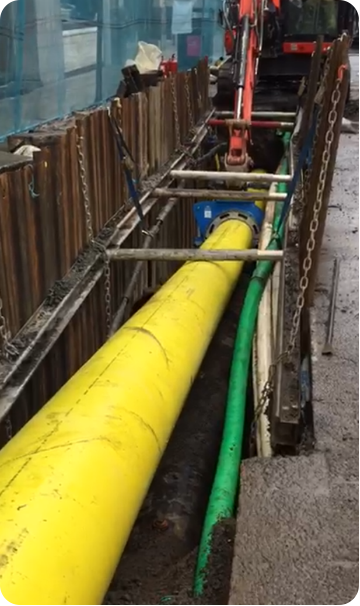 Update: Tuesday 2 July 2019
For safety, we've had to temporarily close the east section of George Square in Glasgow, between North Federick Street and South Federick Street, for five weeks. South Frederick Street is also closed northbound.
This has been agreed with Glasgow City Council and our key stakeholders, and will help improve traffic flow along Cochrane Street and George Square (south section) while we work to upgrade the gas network.
Media library image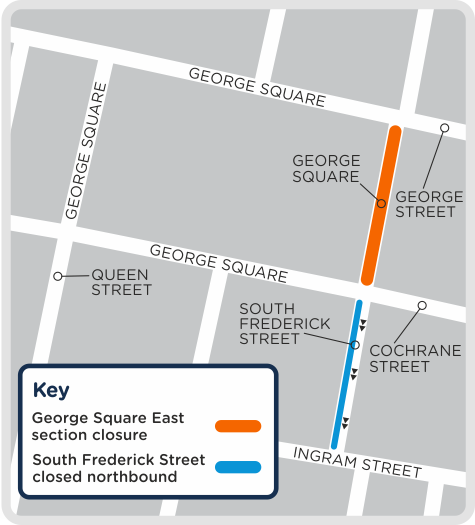 We'll shortly be starting a project to upgrade the gas network in Glasgow's City Centre.
This essential work involves the replacement of old, metal gas mains with new plastic pipe to ensure a continued safe and reliable gas supply.
Our work will take place in the following streets: Cochrane Street, George Square, St Vincent Place, St Vincent Street, Bothwell Street, Hope Street, Pitt Street, Waterloo Street, Queen Street and Argyle Street.
Media library image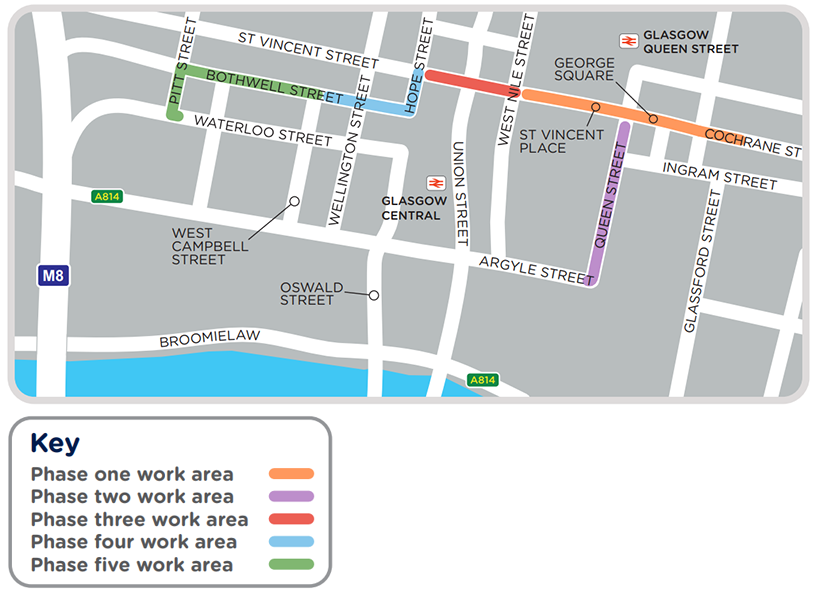 In agreement with Glasgow City Council, our project will start on Monday 17 June and last until February 2020. It will involve lane restrictions and lane closures in the areas we're working. 
To minimise inconvenience as much as possible, we intend to carry out all our work without using temporary traffic lights or closing roads. However, this may be necessary at times to ensure everyone's safety.
We'll be carrying out the work over five phases to help minimise disruption. You can find out more about when and where each of these phases will take place in our customer leaflet below.
We understand that people can get frustrated by roadworks. However, the new plastic pipe has a minimum lifespan of 80 years. This means that when the work is complete, Glasgow residents will continue to enjoy the benefits of a safe and reliable gas supply for years to come.