Date:
16 Sep 2021
Media library image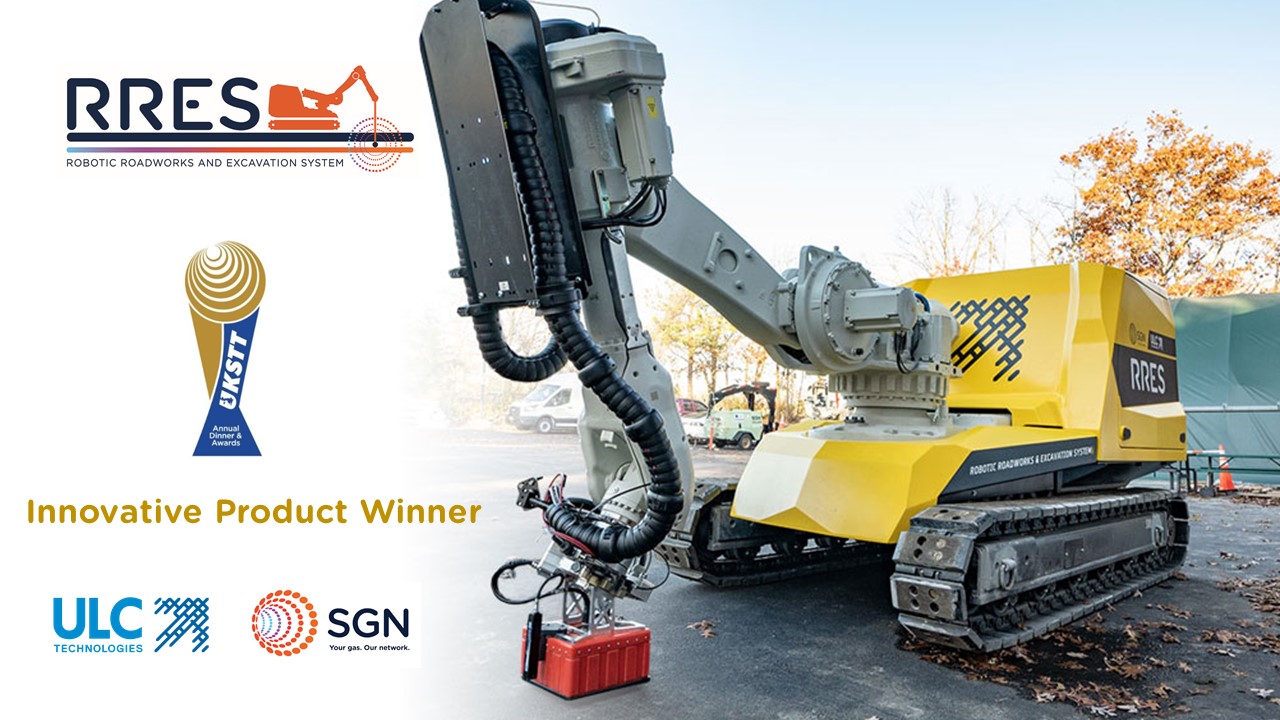 We celebrated not one, but TWO awards at last night's UK Society for Trenchless Technology (UKSTT) Awards 2021.
The award ceremony took place at the East of England Arena & Events Centre in Peterborough. Top UK utilities, manufacturers and contractors were shortlisted including Wessex Water, Southern Water, McAllister Group and Eco Drill.
We came up trumps in two categories, with our Robotic Roadworks and Excavation System (RRES) sharing Innovative Product of the Year and Innovation Project Manager Gordon McMillan scooping the Young Professional Award.
The UKSTT awards celebrate innovation in trenchless technology. The digging of trenches causes disruption to residents and motorists when going about their normal routine. We do everything we can to minimise this disruption and RRES is our all-new robot which will help do that in a multitude of ways.
Innovative Product of the Year – RRES
RRES is an all-electric robot developed by SGN and ULC Technologies to revolutionise the way utility companies, energy networks, and other industries carry out roadworks. It combines below-ground locating sensors, artificial intelligence, and machine learning to make roadworks safer, faster, and smarter.
RRES was developed to overcome the wide range of challenges we face when conducting traditional utility excavations, including third-party damage to our pipes, disruption to traffic, and carbon emissions. Find out more about it in our video below.
Media library image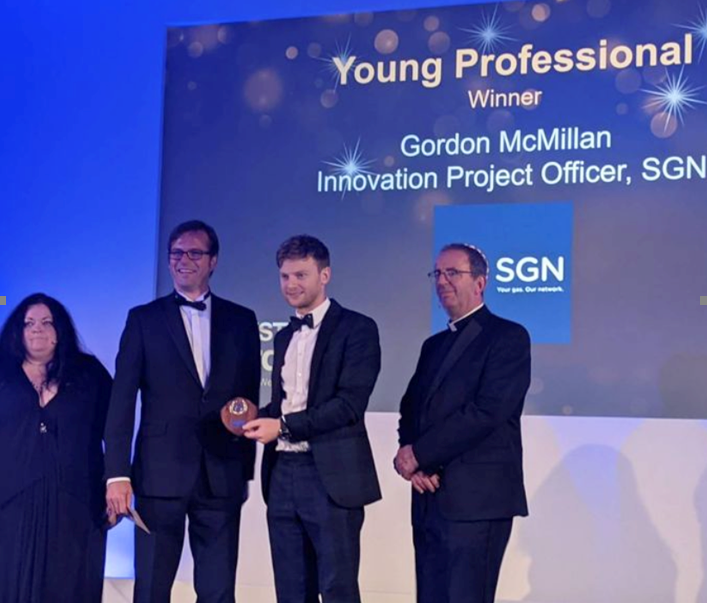 Young Professional Award - Gordon McMillan
Gordon works in our Innovation team and took home the prestigious Young Professional Award for his work on RRES. After receiving his award, Gordon told us: "Delighted to have won which highlights how far we have come in the past year despite COVID throwing us a curve ball. Not long ago RRES was a concept on a piece of paper and through the efforts of the team across SGN and our partner at ULC, we now have a prototype that has undergone US trials already and is going to be trialled in the UK later this year.
"Really exciting time and fortunate enough to be working on such a revolutionary project with an awesome team. Massive thanks to SGN and ULC, especially Ali Asmari, Ollie Machan and John Richardson".
We'll be shortly beginning UK trials for RRES following successful trials in the US earlier this year.
You can find out more about our robotics projects here. And, if you want to know about how we're using innovation to decarbonise, click here.
To see all the products, projects and people shortlisted at the UKSTT Awards click here.