Date:
21 Dec 2021
Media library image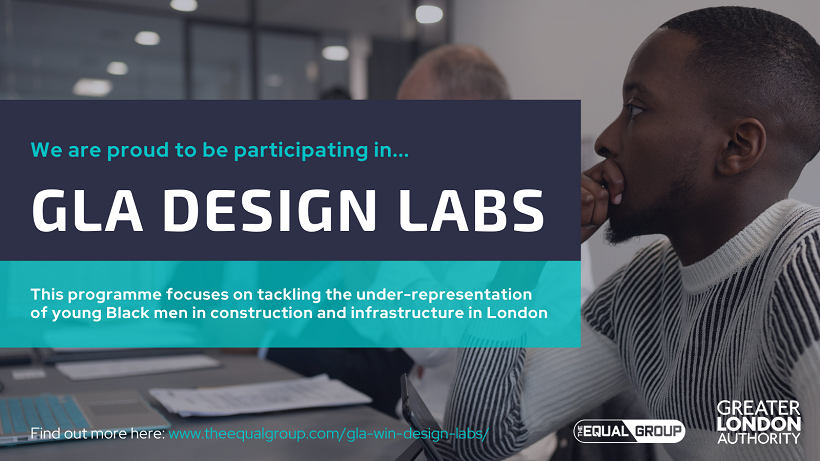 Earlier this year, we announced our participation in the Greater London Authority (GLA) Design Labs, created to tackle the underrepresentation of young Black men in the construction and infrastructure sectors.
It's part of our commitment to do more to better reflect the communities we work with and the programme has helped us to learn how we can better attract and retain people from different backgrounds, specifically young Black men in the London area. Over 12 months, we've been working alongside companies including Balfour Beatty, Thames Water and UK Power Networks to take action and learn best practices from one another.
There is a huge underrepresentation of Black people working in UK companies at all levels but especially in senior positions – there are no Black Chairs, CEOs, or Executive-level managers in FTSE100 companies. This means key decisions are being made which don't reflect the communities these companies work in which could unfairly affect Black people.
Our participation in the programme has involved the creation of an action plan specifically to address this imbalance. It sets out three objectives and how we intend to achieve each of these:
Engaging 

our people
Making sure everyone sees the importance and value of working in an inclusive workplace is vital for us to achieve our objectives and engaging with our people is key to this.
Our Different perspectives mutual mentoring programme has begun, with all ten members of our Executive team signed up to take part to broaden their insights and explore alternative solutions to problems. The programme lasts for six months and 40% of our mentors are Black.
We'll continue to listen and learn from the lived experiences of our Black colleagues. We've held our Let's Talk About Race sessions, listening directly to our Black people about the issues that affect them and how we can improve our practices, and we'll carry on taking part in awareness campaigns such as Black History Month to share personal stories with our colleagues, customers and stakeholders.
We're about to launch a series of employee networks, including one for our Black colleagues to join together with other colleagues of colour to help us do better across the company.
Partnerships and programmes
We know we can't achieve an inclusive workplace on our own so partnering with other organisations and individuals is crucial for us to make progress.
We're particularly proud to be supporting and participating in the 10,000 Black Interns programme, which is designed to improve the diversity of the UK's professional industries by offering paid internships to Black people over five years. The internships will begin next summer, providing lifelong skills to our Black interns and hopefully help them to begin their careers in the energy sector.
Partnerships with the ENA, the Energy & Utilities Skills Partnership and the Greater London Authority help us to be part of the conversation in making progress across our industry, learning from our partners and finding better ways to improve how we attract and retain our Black colleagues.
We're also engaging directly with local stakeholders to encourage their involvement in our plans too, particularly in the London area, to gain further insight and recruit from these communities.
Education
It's important we continue to train our managers and recruiters in employing the right people for the job, with education and training an important part of this.
We've already carried out inclusive recruitment and bias awareness training to many of our people managers and we'll continue to develop our people to make sure Black people, as well as others, are not disadvantaged when applying to work with us or progressing their careers here.
In October, we launched our race and privilege guide to join our growing library of inclusivity guides – it's hoped the guide will help to improve understanding across the company and highlights practical steps we can all take to create a more inclusive workplace.
We'll continue to expand our library of D&I education resources, including our video playlists, containing valuable external resources that we feel will educate, engage and entertain our people.
But our plans aren't limited by this action plan:
We've also signed the Race at Work Charter, making us accountable for commitments including taking action to support equality in the workplace, capturing data on ethnicity and publishing our progress.
Our annual diversity pay gap report was launched for the first time this year and we'll continue using this to be transparent about our progress.
Our D&I scorecard allows us to measure our data and further reflect on the speed of our progress, shared with directorates to allow reflections in their areas too.
This action plan forms a part of our wider Diversity and inclusion ambition, our strategy for developing a more diverse workforce and inclusive workplace between 2021 and 2026.
Our GD2 plans are ambitious and if we want to lead the way in energy delivery, we need the right people to help us get there. Attracting and retaining diverse talent, including young Black men, is critical to ensuring our continued success and we need the diversity of thought and experience to help us innovate for a brighter future.