Inclusion is at the heart of everything we do.
From Buckie to Brighton, we keep gas flowing to a vibrant and diverse array of communities across Britain.
Diversity brings direct benefits for our customers and our people. Fostering inclusion brings fresh perspectives to our business that help us to make changes for the better, every day. It helps us to make a more positive impact on our communities, deliver outstanding service and drive innovation. 
Media library image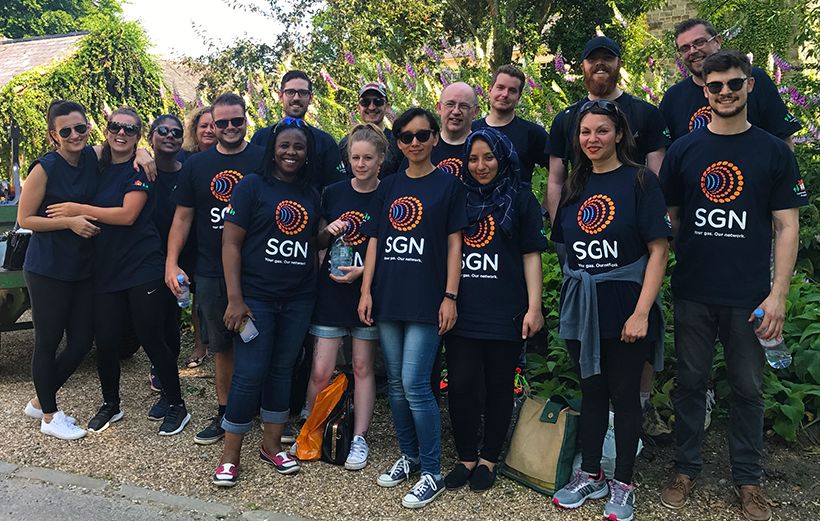 The principles of inclusion are ingrained in everything we do: we want to be a place where everyone feels valued, respected and supported to achieve their full potential, empowered to speak up, and enthusiastic to collaborate and build a better shared future for everybody.
Our diversity and inclusion action plan
We're proud to employ over 4,000 individuals with a wide range of experiences, backgrounds and beliefs.  
Our sector – like many others – can do more to create a more diverse workforce, and we're taking active steps to encourage applications from candidates across each spectrum. We're supporting our managers to consciously challenge bias and privilege, and partnering with organisations across the energy industry to make the sector more accessible. 
By engaging, educating, and embedding talent from more diverse communities, with clear communication and close measurement underpinning our strategy, we hope to address the current imbalance in the coming years. 
Our diversity and inclusion ambition sets out our action plan to achieve greater diversity within our workforce and strengthen inclusion throughout our workplace.
Gender pay gap
We've taken steps to close the gender pay gap, and we acknowledge that the work is not yet done. Our gender pay gap is significantly below the national average, but we'll continue to make more progress on this in coming years by listening, innovating, and improving diversity and inclusion across all our teams. 
Attracting and retaining a diverse workforce
We're engaging with a broad range of stakeholders to broaden our focus and attract talent from under-represented groups.  
Data and working with community stakeholders are key to making a difference here, especially given our diverse geographic spread. In London, black and minority ethnic (BAME) people make up 38% of the working population, making this our focus area for attracting and retaining talent from diverse groups. In Scotland, that number is currently only 3%. We'll continue to work hard to attract and retain talent from diverse backgrounds, because we know the value a more inclusive workforce can bring to our customers and our business. 
A family-friendly employer
We appreciate the importance of a healthy balance between work and family life, and supporting our people in their professional and personal lives is one of our priorities. We're proud holders of the gold award from the Defence Employer Recognition Scheme, and we hold a bronze Inclusive Employers Standard award.
Research was an important first step in our journey towards being a more family-friendly employer. We carried out workshops with parents and expectant parents to understand the experiences of those taking and preparing for family leave.
Our new, improved paternity policy offers expectant fathers enhanced paternity pay and paid time off for antenatal appointments, and our family-friendly guides to parental leave make it simple to plan time off.   
We've also introduced a new carer policy to support the growing number of carers across our company. We provide additional support tailored to each carer's personal circumstances, such as up to five days unpaid carers leave per year or flexible working. 
By listening to our people and creating new, more progressive policies and benefits, we're able to help our parent and carer colleagues support their families when they need them most, without worrying as much about time off or financial pressures.
Faith and belief
We introduced our faith and belief guide in 2020 to help our people achieve a greater appreciation of the different religions and how they're celebrated. The guide looks specifically at inclusion from the perspective of faith and belief, with information on how to support specific religious practices, and wider tips on how to make sure everyone in our teams feel included.
It's been written in a way that doesn't prioritise one religion or belief system over another and supports our colleagues and customers whose religion is visible (because of dress or practice) as well as for those whom it is not. It's intended to also support colleagues who have no religion or belief system so that they also feel fully included too. We know faith groups are not all the same and the guide is a starting point for conversations, not an exhaustive list of all faiths and beliefs.
LGBTQ+
Our gender and sexual orientation guide was launched as part of Pride Month 2021, aiming to improve understanding and highlighting practical steps we're taking to create a more inclusive workplace. Some of our people may consider their gender identity and/or sexuality to be private and would prefer not to discuss them with their colleagues. Others would prefer to share this information but might struggle, so it's important we create an open and inclusive culture where all colleagues can feel comfortable about disclosing their gender identity and sexuality. We know that people perform better when they can be themselves.
The guide complements our work celebrating our LGBT+ History Month in February, including personal stories of coming out alongside blogs around LGBTQ+ history, as well as sharing resources for further learning and sources of support.