Date:
27 Nov 2020
Media library image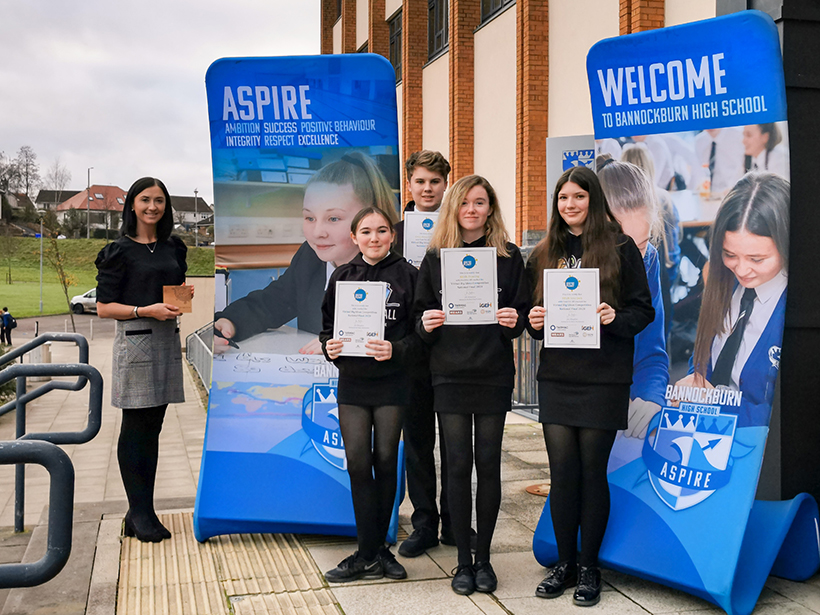 A team of secondary school pupils from Stirling mentored by SGN have won Solutions for the Planet's Virtual Big Ideas Competition 2020 National Final.
The Food for All team from Bannockburn High School amazed judges and MPs on Wednesday 18 November with their idea to tackle food waste and poverty with a café that redistributes food to people in need and a campaign to educate people about healthy eating.
This year's competition was disrupted by the coronavirus pandemic and forced the National Final to be held virtually to help keep everyone safe.
Food for All impressed the judging panel with how they had pivoted in response to the pandemic, adapting to the challenges posed by social distancing restrictions. The team has developed partnerships and identified additional collaborative opportunities as well as passing the fundraising target they set themselves.
Business partner mentors from SGN, Tarmac, IGEM, Mears Group, Northern Gas Networks and Kongsberg Automotive have supported teams during the academic year as part of the Solutions for the Planet (S4TP) programme. The S4TP Big Ideas Competition gives pupils the opportunity to work with businesses to create ideas that could solve societal and environmental problems facing the world, while exploring opportunities within science, technology, engineering and mathematics.
Our Area SHE Manager (Scotland and Northern Ireland) Grant Taylor worked with the winning team this year, helping and encouraging the team to develop their idea to presenting it at the final. Grant said: "The Food for All team thoroughly deserve their win. They have demonstrated collaboration, passion and understanding about food poverty.
"I've been involved with S4TP as a business partner mentor for two years now and have enjoyed the experience. There's a sense of pride that you're supporting our workers and leaders of the future, while passing on your skills and experiences. Congratulations, Food for All!"
Food for All was supported by their local MP, Alan Smyth. He said: "The team was articulate, clear and their passion to tackle food poverty shone through. I'm very proud they've won first place in this UK-wide competition, championing the values and beliefs of their school and city, and I hope their project continues to make a real difference to those in need in Stirling's communities."
Twelve teams in all presented solutions to sustainability issues at the National Final last week after progressing from regional finals. Mentors from across our business had been working with finalists based in Scotland and southern England on their ideas, and all those who reached this stage can be extremely proud of their achievements and unique ideas.