Date:
06 Jul 2022
Media library image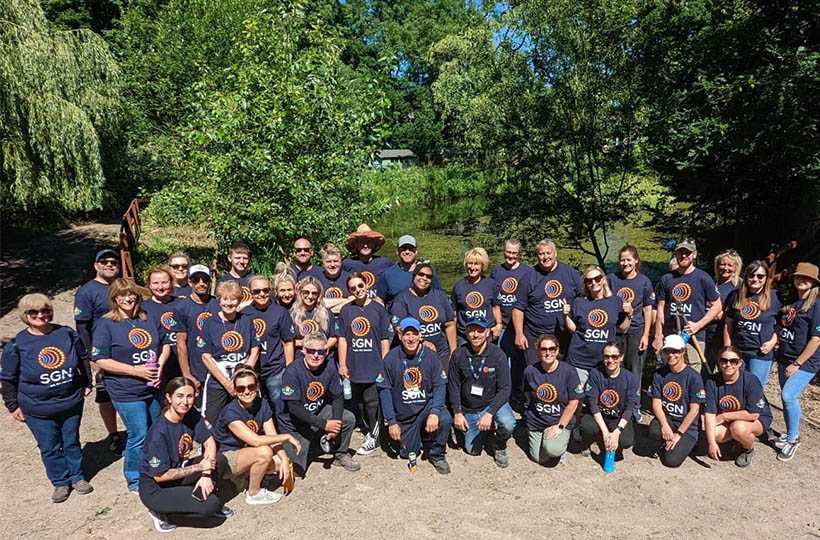 An arts college for young adults with disabilities has seen their wooded lake transformed, thanks to volunteers from gas network company SGN.
The area, which is located in the large grounds of the Orpheus Centre in Godstone, Surrey, became heavily overgrown due to difficulties faced by the centre during the pandemic. In need of constant maintenance, and with plans to develop the area for a temporary building and light trail, the area needed to be cleared before work could begin.
Sixty volunteers from our HR & Services team arrived on a hot day in late June to get to work. Separated into several teams, they got to work clearing vegetation from the path around the lake, cutting their way through weeds and brambles and making the path and handrail usable again for students and staff at the centre.
Their hard work didn't stop there, with time also dedicated to painting the surrounding fences and shed.
Orpheus is an arts college focused on performing arts to empower young adults aged 18 to 25 with disabilities, some on the autistic spectrum, as well as students with Down's syndrome and wheelchair users. 64 students study at Orpheus, with 26 living on site. Courses run for three years, with the young people learning confidence, life skills, independence, and tips for professional life.
​​The team took part in the activities as part of our Community Action Programme, which gives the company's 4,000 employees one day a year to volunteer for a worthwhile cause of their choice during working hours. The scheme allows colleagues to help the communities and charities they feel most passionate about.
Kirsty Richardson, Head of Employee Experience, said: "Our HR & Services team spent some fantastic time together, after an enforced two-year separation, meeting new people and reconnecting with old friends. Seeing the transformation the students could enjoy the next day was an absolute pleasure and an experience many of us won't forget. Thanks to everyone at Orpheus, including the volunteers, for making us feel so welcome."
Jack Betteridge, Orpheus Partnerships Executive, said: "We are very grateful to everyone who came along to volunteer and support us. It is so important to the students that they have places that are safe, relaxing and stimulating to enjoy with their friends and to take part in sessions as part of their learning. The area around the lake is now accessible again and means we can look at reintroducing nature and exercise activities to help everyone's wellbeing. It was a real pleasure to welcome SGN and we hope we can continue the partnership in the future."