Date:
13 Sep 2021
Media library image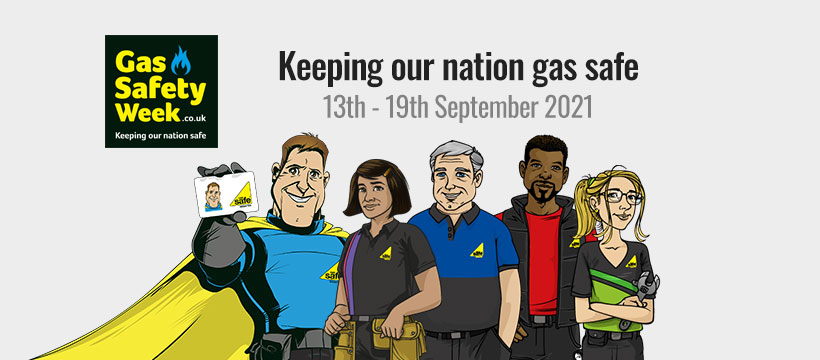 Gas distribution company SGN has proudly pledged its support for the eleventh annual Gas Safety Week (13-19 September 2021), to raise awareness about the importance of gas safety.
This year, Gas Safety Week is addressing a whole range of gas safety matters with a focus making sure everyone stays safe and well at home - from advice about how to keep vulnerable loved one's gas safe, to raising awareness of using a registered engineer who is legally qualified, to ensure consumers don't become vulnerable to illegal gas work through lack of awareness. Gas Safety Week is also an opportunity for us to highlight the work we do all year round to promote gas safety. This includes warning about the dangers of carbon monoxide (CO), encouraging people to invest in and test their CO alarms and teaching people, including school children, about gas safety and the symptoms of CO poisoning. And, working alongside the other gas network companies, promoting our locking cooker valve.
With carbon monoxide still causing deaths in the UK each year, it's crucial that people have their appliances checked each year to be assured they are working safely and efficiently. People should also check that their engineer is Gas Safe registered. Anyone working on gas appliances while not being registered is working illegally.
CEO John Morea said: "This Gas Safety Week we're working with Gas Safe Register to encourage people to have their gas appliances checked every year by a Gas Safe registered engineer, and to learn the symptoms of CO poisoning. Now more than ever, it's important we all stay safe and well in our homes, schools and offices during these unprecedented times.
"It's also a chance for us to talk about our Additional Services, including our award-winning locking cooker valve. This is a simple safety device that's making a massive difference to some of our most vulnerable customers, such as people with Alzheimer's or autism – not only does it help these customers retain their independence, it also provides reassurance to family, friends and carers. What's more, we offer this life-changing service for free.
"Throughout the week, we'll be reminding people about the other additional help services we can offer to those who need it most. We work closely with partner organisations to offer further services to help keep everyone safe and warm. For example, our expert energy advice partners offer confidential, independent information about home energy efficiency, help with switching to better tariffs and support with clearing energy bill debt. Having a chat with our Carline Team on 0800 975 1818 could make a big difference."
To keep you and your family safe, follow Gas Safe Register's top tips: 
Know the symptoms of CO poisoning; headaches, nausea, breathlessness, collapse, dizziness and loss of consciousness.

If you smell gas or think there might be a gas leak, call the free 24-hour national gas emergency number immediately on 0800 111 999.

To refer someone who might benefit from our

locking cooker valve, call 0800 975 1818 or email locking.valve@sgn.co.uk

Never attempt to work on a gas appliance yourself, always seek the help of a qualified Gas Safe registered engineer who can work on your gas cooker, boiler or fire in a safe way.

Don't cut corners - only employ a suitably qualified Gas Safe registered engineer when having gas work carried out in your home.

Always ask to see your engineer's Gas Safe ID card. Make sure you check the back of the card, which will state which gas appliances they are qualified to work on.
Gas Safe Register is the official register for legally qualified engineers. You can find a registered engineer in your area by visiting the Gas Safe Register website at www.GasSafeRegister.co.uk or by calling on 0800 408 5500.